As I perused the endless amounts of office decor and design, I started noticing a trend in the pins that interested me, and the pins that I ignored. This didn't mean the space was ugly or poorly designed, but it was the actual desk space and usage that either sealed the deal or lived to see another day, just on somebody else's inspiration
board. Thus, the term Desk Etiquette blossomed into a full on exploratory investigation. Allow me to demonstrate;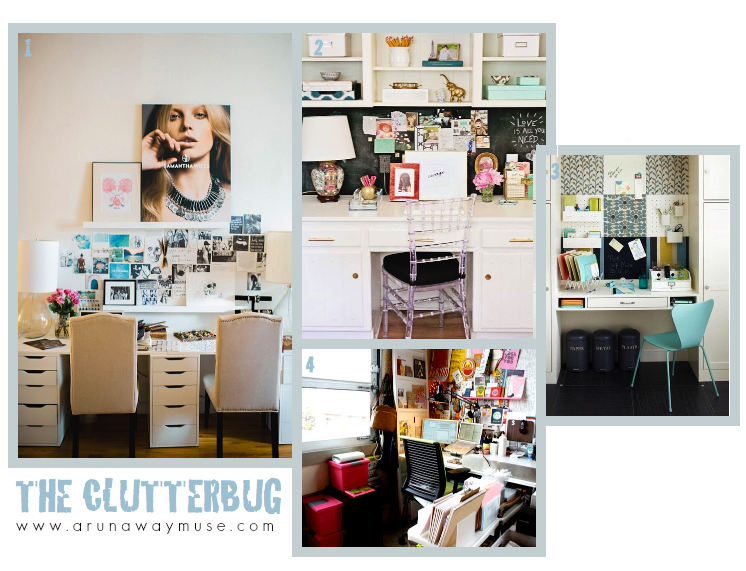 The Clutterbug - the obnoxious display of good design with a bunch of random - yet, "
important"
- junk. The majority of these rooms are esthetically pleasing to the eye, soft muted colours paired with white furniture, you really can't go wrong there. There's also some great ideas hidden in there, like magnetic chalkboard paint, or the brilliant use of IKEA storage towers to maximize office awesomeness. But then... there's all that
stuff
. Not to be confused with the general population of "The Mess" design practice, where junk magically accumulates in a blink of an eye and is certainly not intended, the Clutterbug fully intends to fill their spaces with endless amounts of magazine clippings and sticky notes until every nook and cranny is filled.
Serious sensory overload. I get enough brain activity from my computer screen alone, I couldn't imagine glancing up and staring at a busy scraps wall. Just thinking of it makes my eyes tired.
The OCD Organizer - the oft times frightening display of obsessive rainbow coordination and meticulous bookshelf storage. These people run the design boot camp for organization, and get giddy when they look at perfectly aligned magazine holders. The Organizer tirelessly categorizes every single item in their office and finds a place for it. They enjoy admiring their hard work by having everything
in your face
at hand, with all their glorious organization exposed for the world to see. But if you ask me, those who are organized are just too lazy to look for things.
Another overload on the eye balls... I'm sensing a pattern here. I do not have the patience nor stamina to systematize my office supplies. I prefer to have a life. Translation: I prefer to spend my days laying out at the pool sipping a Corona or watching endless amounts of Netflix with a bowl of popcorn at hand. With such a demanding schedule, it's no wonder I don't find time to organize.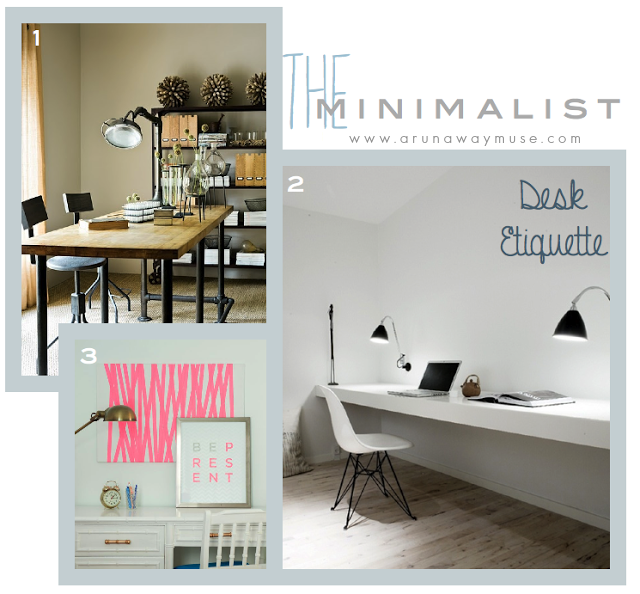 The Minimalist - the ultimate form of self control. The Minimalist is an artist, painting the perfect picture of simplicity. They are pure in their design esthetic, only introducing pieces of necessity, requiring every single item to coordinate and flow together. If you ever need minimalist inspiration, look no further than Scandinavian/Nordic design, or my
Tumblr
.
I have had many failed attempts at pulling off the Minimalist, so at this point I've pretty well given up.
In conclusion, I've found that I'm none of the three radical Desk Etiquette's. I'm drawn to inspirations that have a little dose of all three mixed together in a delicious stew of office design. After all that dissection, I still can't figure out where I fit in.
I would love to be able to keep my office space completely clutter free, but I do appreciate the slight pops of colour, a funky lamp, and an array of plush toss cushions. The colour palette I'm loving right now is cream, white, soft pink and gold. Gold has always, and forever will be, a design obsession of mine, and it would be simple enough to switch out the hits of pink
when
if I tire of it.
What is your Desk Etiquette?